March 1st, 2011 by Greg Tyler
ASTRONUTS is now on IMDb, the Internet Movie Database.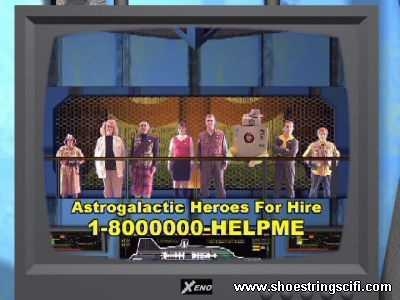 The credits aren't 100% complete, and they aren't 100% accurate. I'll be fixing them over the next few weeks.
February 23rd, 2011 by Greg Tyler
In preparing to make post-ASTRONUTS movies, I've been scouting for possible new audio equipment. ASTRONUTS' microphone was the built-in microphone of a consumer-grade, Digital8 camcorder. Because of the noise of the camcorder's inner mechanism and the distance between the camcorder and the talent — often ten to fifteen feet — the quality of the recorded audio was… less than ideal.
I'm still investigating options, but at the moment this equipment looks promising:
Additional audio equipment will include a boom — probably a homemade boom — XLR cable, a windsock/deadcat, gaffer's tape and headphones. A lot of websites recommend also using lavalier mics and an audio mixer, but the other stuff alone, coupled with some practice, would be a giant leap beyond what we used before.
I also plan to have a boom operator, although I suppose that's a person and not equipment.
Here are some useful links about audio and independent moviemaking:
I'll probably purchase and experiment with new audio equipment before I purchase new video equipment.
February 23rd, 2011 by Greg Tyler
What is a spaceship without control panels, and what are control panels without buttons?
In a thread on TrekBBS, Dennis Bailey, writer and creator of POLARIS, recently shared information about stuff that can be used to represent spaceship control panel buttons: adhesive feet for furniture and appliances! One maker of these "bumpons" is 3M.
Here are some links that Dennis kindly shared:
February 23rd, 2011 by Greg Tyler
At the January 2011 DATV free-for-all, a variety of freeware applications were discussed which can help make the filmmaker's life a bit easier:
For 3D graphics connoisseurs, I recommend Blender.
February 12th, 2011 by Greg Tyler
As ideas continue to congeal for future shoestringscifi.com projects, the search for a new camera has begun.
With the exception of one shot, ASTRONUTS was made with a consumer-grade, Sony Digital8 DCR-TRV320 Digital Video Camera Recorder. When purchased in 2000, the camcorder cost about $800. The camera worked well for what we were doing, but I would like for the next shoestingscifi.com movie to "kick it up a few notches" in both video and audio quality. The TRV320 lacked features such as manual white balance, it had a consumer-grade CCD, and it recorded 480i digital video.
Today many affordable and high-quality options are available. Digital camcorders capable of recording nice-looking, 1080p digital video can be found for around $1000, and digital SLR cameras in a similar price bracket often have video capabilities with images that strongly resemble professional film cameras.
One of my biggest barriers in finding the right camera is that I know next to nothing about cameras. Even when a term like "ISO" or "f-stop" or "equivalent lens" or "bokeh" is explained to me, or I read enough to understand a term, I forgot it shortly afterward, because I don't live, eat or breathe cameras.
As I explore cameras, I'll be updating this article with new information that I discover about cameras — the lingo, seemingly good makes and models, etc. This article will serve as a "cheat sheet" for me, and hopefully it will also be useful to others.
Right now all I know is that I want a camera — whether a digital camcorder or a digital SLR-like camera — which can shoot nice-looking (read: doesn't look like a family birthday party recording) 1080p 24fps video, and with two or three extra lenses, costs hopefully much less than $2000 — ideally no more than $1000.
I'd like decent audio recording equipment, too, whether it's just an okay boom mic that plugs in to the camera, or a boom mic with a separate digital audio recording device. I want decent quality, but I want it to be inexpensive, too.
I don't plan to impress the likes of Ben Burtt or Jordan Cronenworth with my purchases, but I would like something that can produce an acceptable sight and sound when shown on a big screen.
If anyone has suggestions, then feel free to contact me at the address on this site's Contact page. Thanks in advance!